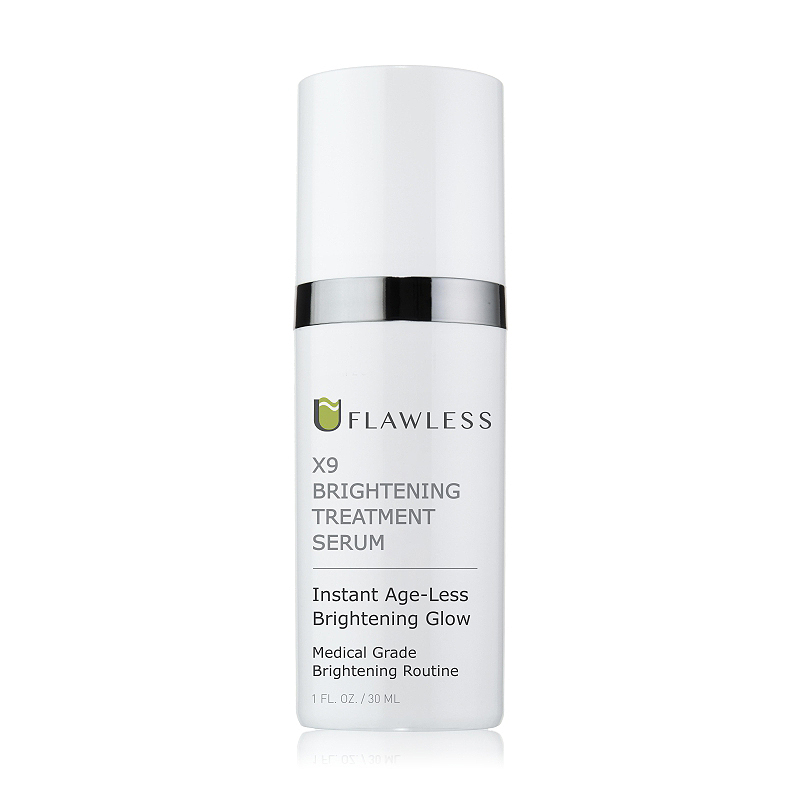 X9 Brightening Treatment Serum | Skin Care |
$87.00
When trying to get more results for the money, and as fast as humanly possible, this replenishing concentrated serum is the answer for instant glow and smoother plumper skin. Medical-Grade antioxidants deliver ultimate bright, ageless, and soften skin.
More Benefits:
Protect the formation of new pigments aka Age Spots or Sunspots.
Antioxidant, able to protect the skin against harmful (Oxygen + Nitrogen + Carbon) free radicals.
Replenish skin's vitality while reversing rough dull skin.
Description
Additional information
Reviews (0)
Ingredients
Description
Formulated with Natural derived Lipids and powerful antioxidants to lessen age spot recurrence while plumping the skin and delivering an instant glow.
Formulated with Medical-Grade strength using cutting-edge actives and ingredients to treat and protect skin against free radicals that causes age spots, freckles, and pigments
Vitamin E + F helps to immediately enhance the luminosity of the skin, diminishing wrinkle appearance and revealing a youthful ageless brightening skin.
Vitamin E works as well as one of the antioxidants present in medical-grade strength acting to scavenge free radicals and inhibit the formation of melanin.
Scientific studies prove that the Lipids used on the X9 Brightening Treatment Serum influence skin pigmentation by stimulating epidermal turnover and increasing the desquamation of melatonin pigment from the epidermis.
Curious information from a study from 2015, shows clear evidence that people living close to Interstate Highways, are linked to having 20% more age spots than age-matched individuals, compared to other groups of people, farther from Interstates.
That's the reason this product is a must for people living in big cities, as it is loaded with the best antioxidants, specifically targeted to fight free radicals derived from pollution (Carbon + Nitrogen + Oxygen)
Additional information
| | |
| --- | --- |
| Weight | 0.26 lbs |
| Dimensions | 1.5 × 1.75 × 4.5 in |
Cyclopentasiloxane, Ethylhexyl Cocoate, Dimethiconol, Glyceryl Linoleate (Vitamin F), Glyceryl Linolenate, Tocopheryl Acetate (Vitamin E), Lecithin, Glyocolipids, Dimethylmethoxy Chromanol, Phenoxyethanol.