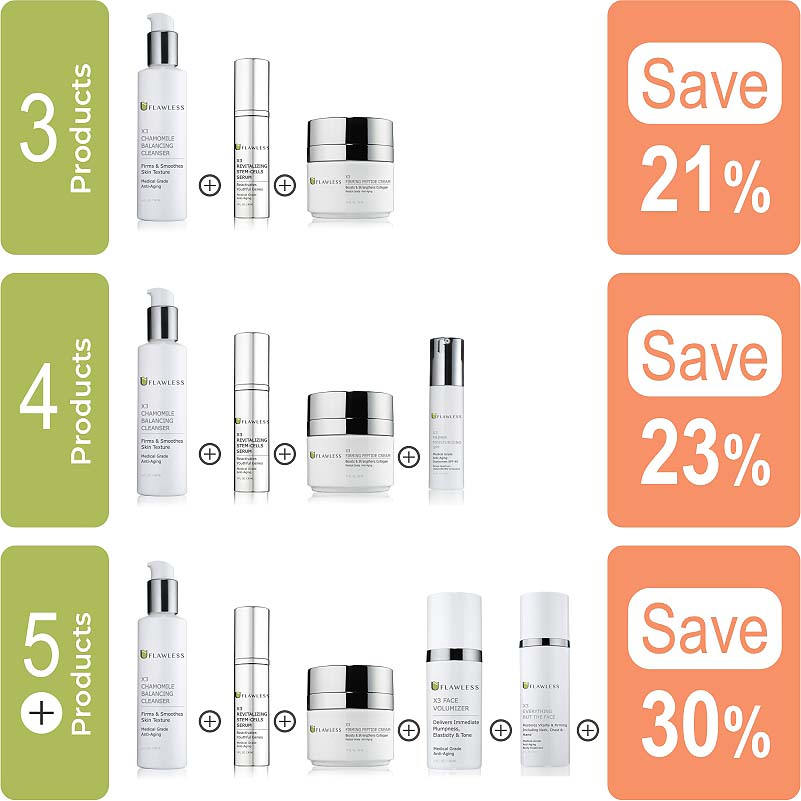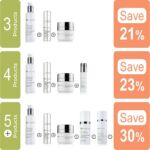 3-Step Custom Order | 30% Off Advanced Skincare |
From:
Description
Additional information
Reviews (0)
Description
One of the fastest ways to reveal youthful skin is to have a proper skincare routine, no questions about it.
Studies show that an effective skincare routine has 3 basic steps. Cleanse + Treatment Serum + Moisturize
This is exactly what we're giving you.  An opportunity to customize your order in 3 steps.
1) CLEANSE – Pick your cleanser
2) TREATMENT SERUM – Mix & match with your favorite serums for hydration
3) MOISTURIZE – Get the moisturizer to enhance the benefits of the serums, sealing the skin, trapping the benefits of the hydration longer.
You can feel like enhancing the benefits by adding as many other products as you want, and the great news is SAVE up to 30%!
This has never been released as a standalone offer before…and previously sold as part of a more expensive package.
Now, because we're always looking forward to seeing UFlawless, we want to ensure you're equipped with everything you need in order to achieve your goals…
Rest assured that your satisfaction is 100% guaranteed! You can use the entire bottles for 30 days and if you're not satisfied with the results, we got you covered!
• Shipping in on us! (usually $14.95)
• A FREE X3 Spa-Day @ Home (normally $9.95)
Additional information
X3 Chamomile Balancing Cleanser |
| | |
| --- | --- |
| Weight | 0.5 lbs |
| Dimensions | 1.75 × 1.75 × 7 in |
X9 Advanced Exfoliating Cleanser | Skincare |
| | |
| --- | --- |
| Weight | 0.5 lbs |
| Dimensions | 1.75 × 2 × 7 in |
X3 Revitalizing Stem-Cells Serum
| | |
| --- | --- |
| Weight | 0.21 lbs |
| Dimensions | 1.5 × 1.5 × 5.25 in |
X3 Face Volumizer | Anti-Aging Skincare |
| | |
| --- | --- |
| Weight | 0.26 lbs |
| Dimensions | 1.5 × 1.5 × 4.5 in |
X9 Brightening Treatment Serum | Skin Care |
| | |
| --- | --- |
| Weight | 0.26 lbs |
| Dimensions | 1.5 × 1.75 × 4.5 in |
X3 Peptide Eye Serum | Eye Creams & Serums |
| | |
| --- | --- |
| Weight | 0.20 lbs |
| Dimensions | 1.5 × 1.5 × 3.5 in |
X3 Age-Defy Retinol PM Serum | Skincare Renewal |
| | |
| --- | --- |
| Weight | 0.27 lbs |
| Dimensions | 1.5 × 1.5 × 4.5 in |
X3 Refining Glycolic Gel Pads |
| | |
| --- | --- |
| Weight | 0.37 lbs |
| Dimensions | 3 × 3 × 2.75 in |
X3 Firming Peptide Cream | Sensitive Skin Care |
| | |
| --- | --- |
| Weight | 0.43 lbs |
| Dimensions | 2.5 × 2.5 × 3 in |
X9 Ultimate Brightening Moisturizer
| | |
| --- | --- |
| Weight | 0.43 lbs |
| Dimensions | 3 × 3 × 2.5 in |
X3 Primer Moisturizing SPF | SPF 40 Sunscreen |
| | |
| --- | --- |
| Weight | 0.32 lbs |
| Dimensions | 9.5 × 5.5 × 3.0 in |
X3 Everything But The Face | Body Care Products |
| | |
| --- | --- |
| Weight | 7.3 lbs |
| Dimensions | 2 × 2 × 6.5 in |
X6 UPolished Exfoliating Cream | Exfoliating Skincare Products