UFlawless
Protect Your Skin From The Summer Sun
Summer is here and that means more heat, higher UV levels, and of course, more sun. That's why it's so important to protect your skin from the summer.
Summertime is considered one of the happiest times of the year although your skin may not agree. It's important during the summer to monitor just how much sun you're taking in and how it will affect your skin. Overexposure to the sun is one of the leading factors of pre-mature aging and blemishes. 
As an Advanced Medical-Grade Skincare brand, UFlawless cares about your skin and lifestyle. We want to ensure that you and your skin enjoy the sun safely. To help make sure this happens, we wanted to provide you with some helpful information about sun exposure and your skin.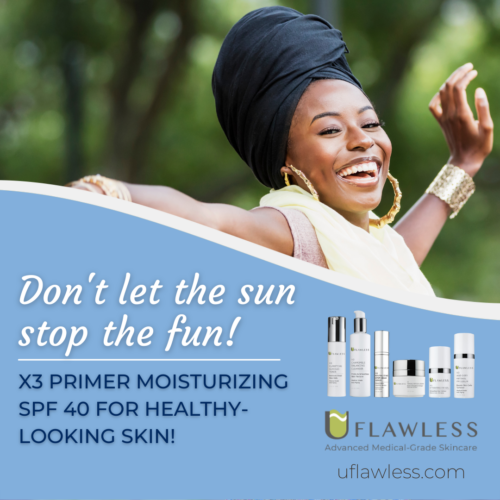 Why Are You Getting Spots During the Summer
There are plenty of reasons why you could be breaking out throughout the year, but we can narrow it down during the summer months. It comes down to stress, sweat, and sultry air.
Manage Your Stress and Age Less!
Having just one breakout is generally one of the reasons we have other breakouts. Once we experience one bad breakout, we will stress about the next time a breakout will occur, thus creating what seems like an endless cycle of breakouts.
Stress of any kind can lead to a breakout. It's important to realize this and understand that breakouts will come and go since it's impossible to eliminate all the stress in life.
Don't Break a Sweat, and protect your skin from the summer
The summer season brings heat and heat brings sweat. While we all love the summer sun, sweating can combine with the different products we have on our faces. Once it enters our pores it results in a breakout.
Sultry Air may dry out your skin
How do we escape the heat? Usually with air conditioning. Unfortunately, even the air conditioning can cause spots and breakouts to arise. Air conditioning can dry out our skin which results in our skin overproducing sebum to lubricate itself. This overproduction can lead to oil becoming trapped in our pores, resulting in a breakout.
So how do we combat this? There are products made for the summer months that can support and help our skin.
X3 Primer Moisturzing SPF
To help combat the hot summer months, we recommend the X3 Primer Moisturizing SPF from UFlawless. This incredible broad spectrum SPF40 facial sunscreen was designed to fight against spots that form during the summer months. This 99% purity, medical-grade sunscreen is loaded with different peptides to help rejuvenate youthful collagen and elastin that makes your skin firmer, while visibly reducing lines and wrinkles. 
This sunscreen works perfectly as a makeup primer and is made with sensitive skin in mind. Those with sensitive skin will love this product thanks to ingredients such as Galangal Root which helps lessen the appearance of acne and soothe the skin.
Other Helpful Summertime Skin Tips
Applying different skincare products will help fight the summer sun, but there are other things that can be done, such as:
Drink Water – Drinking water during the summertime is extremely important. The summer sun can dehydrate our skin so it's important to drink as much water as you can. During the summer, it's recommended to drink two and a half liters of water a day.
Skincare Routines – Being a skincare company, we of course have to recommend skincare routines. UFlawless offers the best products your skin could ask for. All of our products are based on natural ingredients and medical-grade strength.
Proper Sun Exposure – Just because the sun can damage our skin, doesn't mean we shouldn't avoid the sun altogether. The sun gives our bodies vitamin D which helps strengthen bones and other parts of our bodies.
Don't Let Summer Ruin Your Skin
We all have to be more cautious with our skin during the summer months. The sun can lead to more damage as well as dry our skin out. With the proper skincare routines and precautions, you can enjoy the summer sun while looking your best. Check out our store page for incredible skincare products that won't disappoint.