UFlawless
The ONE & ONLY proven solution for Dark Circles & Under Eye Bags
Even if your issue is hereditary or you're sleep-deprived
Did you know that 9 in 10 eye creams available in the market are a total waste of money?
And in most cases, they cost the same amount of your monthly grocery shopping…
Here's the problem you're facing: You've been searching for a solution for dark circles and under-eye bags…
That means you've tested all brands out there.
You can review most of the brands by heart.
From cheap to expensive ones.
But the results you're seeking for, NEVER showed up… leaving you frustrated, as you spent a lot of time and money.
Sad but true, you feel like your destiny is to look like a panda, a raccoon or a basset hound! You name it…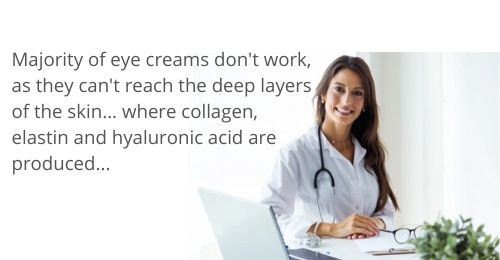 We hear you and feel your pain.
As a family-run business, we are very close to our customers on a daily basis, so we know the struggles of not looking refreshed, next day in the morning or for that evening date or for that important business meeting.
We all want to feel amazing… happening!
Here's the thing… We have good news for you!
It's the X3 Peptide Eye Serum, a Medical-Grade formula to make you look refreshed even if you are sleep deprived or it's a hereditary reason!
87% of our customers mentioned that the first signs of a youthful eye contour as quick as one week, motivating them to keep using it for the coming weeks and getting better results.
Reaching the deep layers of the skin, boosting collagen, elastin and hyaluronic acid, which means firming the eye contour skin structure
Tetra-Peptides and Marine Algae Extract support the eye puffiness fluids to be drained and absorbed by the body
Also strengthening the fragile capillaries, responsible for the dark circles
Quick and easy absorption
Gentle and Skin-friendly
Airless pump and UV Bottle to ensure the integrity of the actives and deliver the right amount of product avoiding waste
UFlawless is an Advanced Medical-Grade Skincare.
Formulated to nourish your skin with pure ingredients to make UFlawless
We deliver 99.9% purity levels on our actives so you can enjoy the benefits of a youthful refreshed look, even if you have hereditary dark circles or sleep derived under-eye bags.
It's not about a miracle maker, because there's no such a thing…
It's about real proven results!
And real results are possible with pure ingredients.
Check what customers are saying about us…
Check what customers are saying about UFlawless...
⭐️⭐️⭐️⭐️⭐️
Sensitive Skin able to use Anti-Aging!!!
"I never imagined I was going to be able to use anti-aging products! I'm 68 years old, very sensitive skin, and Rosacea. Everything I've tried was terrible for my skin. This X3 Anti-aging Routine products to cleanse; the serum and the firming peptide cream are AMAZING! The redness on my face is incredibly better and also the texture of my skin! I feel great!" 
Sandra C. Los Angeles/CA
⭐️⭐️⭐️⭐️⭐️
Couple of Weeks & Great Difference!!!
"I have been using this amazing product for a couple of weeks and have noticed a great difference in the way my skin feels and looks. It's light and gives my skin a nice glow. I would highly recommend this product to my family and friends!" 
Charles D. Miami/FL
⭐️⭐️⭐️⭐️⭐️
Right amount…No waste!
"I love these products! I have been using them for about 2 months now and I absolutely can feel a difference in my skins appearance. My skin was very dry, and at 55, I can say it has never felt better. My wrinkles are a lot less apparent. I love the moisturizer container, you just push on the top and it comes up through the center, giving you the right amount. No more putting your fingers in and contaminating the whole container. A brilliant idea! Thank you!" 
Tammy R. Buffalo/NY
⭐️⭐️⭐️⭐️⭐️
Approaching 50's & Wow!
"Wow! I love this product! My skin looks and feels so smooth. As I approach my 50's I am so happy to have found a skin care system that actually makes me look more youthful.
Thank you UFlawless.com" 
Stella Gostfrand. Miami/FL
⭐️⭐️⭐️⭐️⭐️
Literally, put it to the test! Check Instagram and FB
"I am so pleased with the results of this product lineup, I literally put it to the test with weekly photos. Each week is saw lines, discolorations Md blemishes disappear. My skin hasn't been this vibrant in years".
C.Bonish Cedar Key/FL
⭐️⭐️⭐️⭐️⭐️
Thought that a cleanser was simply a soap!!!
"I clearly can see the importance of a cleanser in our face. It makes life so easy using my favorite anti-aging creams. I definitely will give a chance for the other anti-aging products… Congrats!" 
Glenda M. Hartford/CT
⭐️⭐️⭐️⭐️⭐️
Use it as a face mask
"After using the X3 Chamomile and becoming a loyal customer, I've received many tips and one of them is suggesting to use the cleanser as a face mask. With dry face and let is sit for 5-10 minutes. If it was a simple cleanser, it was impossible to do that. My skin would be dry. It's perfect!!!"
Heather R. – San Diego/CA
⭐️⭐️⭐️⭐️⭐️
It really works…
"Happy to realize that Medical-Grade actually works! I applied under my eyes twice a day and I can see the difference. It's getting better with time. This product is top-notch."
Candy C. Tacoma/OR
⭐️⭐️⭐️⭐️⭐️
Like a Filler but no Injections
" This X3 Face Volumizer is Fantastic! It's like using injectable wrinkle fillers without the discomfort of the injection, and paying much less!"
Mary L. – Milwaukee/WI
⭐️⭐️⭐️⭐️⭐️
Half of the price of what I used to pay for famous brands…
"I love the fact that UFLAWLESS uses botanical ingredients in a medical-grade strength… I feel my skin improved so much and for half of the price of what I used to pay for famous brands…"
T.Schmitz – Scottsdale/AZ
⭐️⭐️⭐️⭐️⭐️
Skeptical and not sure about this product. . .
"But now after consistent use (Twice a day as recommended) I can certainly say with confidence that my under bags eyes are clearly I think of the past. I've started using the X3 Hydrating Eye Gel about 3 weeks ago in my first week of use I noticed an improvement. So I decided to continue using it and thank goodness I did in my second week I was paying attention to the results but keep the routine and now at the end of my third week while I have a house full of kids I had a glimpse of my face in the mirror that's when I realized OMG is this possible my under eye bags are practically gone!!!! I'm so excited and looking forward to the future. Highly recommend this product!!!!"
Martina Z. – Scottsdale/AZ
⭐️⭐️⭐️⭐️⭐️
Best Christmas Gift Ever!
"My daughter gave me the complete UFLAWLESS Medical-Grade Anti-Aging Routine as a Christmas gift and since then, I've been using every day… It may sound odd, but I love to see myself in the mirror again and how my skin looks like… I'm happy again! Best gift ever"

H.Hawkins – Denver/CO
⭐️⭐️⭐️⭐️⭐️
Last-Minute Wedding Support – Check Instagram
"Thank you UFLawless for the encouragement 3 weeks before my wedding!
I was not feeling confident with my skin and on a leap of faith, I've decided to accept the challenge to have a life booster on my face with the Chamomile Cleanser, the Stem-Cells Serum and the Firming Cream… My skin feels amazing and my make up artist was impressed too!! I love my wedding pictures!"
A.Bernstein -Boston/MA 
⭐️⭐️⭐️⭐️⭐️
Stressful life managing kids and work as a single parent
"All I can say is I don't write reviews (Mainly due to the lack of time) but I decided to write this one in the hopes to help other ladies in the same situation. Ladies this stuff really works!!!
I barely read the article when I decided to order the products I was drawn to the products by the simplicity of the process wash your face then apply the eye gel. All I can say after using it for 2 weeks now this stuff is effortless is easy to follow and the results are measurable highly recommended it takes less than a minute. Love it!"
Lisa M. – Raleigh/NC
⭐️⭐️⭐️⭐️⭐️
3-Steps instead of 10-Steps for glow and smoothness
"I love Uflawless for so many reasons, but my favorite is that I don't need to spend 30 minutes in a 10-Step skincare routine… I do 3 steps in the morning 3 steps at night and I feel an immediate a glow and smoothness I've never seen before…" 
M.Alvin – Miami/FL
Promote a firmer and youthful eye contour
The X3 Eye Peptide Serum is formulated specifically for the eye contour, understanding the around the area structure, thinner and with very tiny and sensitive blood vessels, aka capillaries.
The 99.9% purity levels in the X3 Eye Peptide Serum can penetrate the deep layers of the skin, differently from Over the Counter (OTC) products, which have a lower concentration of actives or ingredients that in many cases can be irritant to this skin structure.
Fade Dark Circles
Tetra-Peptides Complex to strengthen capillaries which means that it prevents the tiny blood vessels to break down, the main cause of dark circles.
Reduce eye puffiness
The Combination of the Medical-Grade Tetra-Peptides and Marine Algae Extracts also stimulates drainage of fluids accumulated on the eye contour at the same time that collagen production is triggered by promoting firm and smoother skin.
A Token of Gratitude for you reading this right now!
We appreciate you reading this so far, and we would like you to enjoy the benefits of a youthful eye contour with a 10%OFF – right now – using coupon code – uflawless10 – and also get Free-Shipping.
Truth have to be said. This is not for everybody. Because not everybody can commit to use it twice a day.
This is only for those really serious about getting rid of dark circles and under-eye bags, who can commit.
On the other hand, it's literally a Risk-Free Guarantee for 30 days! You use it and didn't like it, didn't get the results, no questions asked.
We understand that you've tried a lot of the products available in the market, and it's ok if you're still not sure.
It's OK if you never heard about us. We are a family-run business, we can't afford $50 million 30 seconds NFL commercials.
However we are grateful and proud to afford technology to deliver 99% purity levels!
That means eye puffiness and dark circles solved!
It makes us confident to offer you the one and only solution for Under-Eye Bags and Dark Circles.
And become a customer of an Advanced Medical-Grade Skincare.
UFlawless Medical-Grade formulation is made under the responsibility of a licensed dermatologist with 35+ years of practice, running clinical tests on hundreds of patients in the US.
Big brands of OTC products, don't use 99.9% purity levels on actives. It kills their profits…
They'd rather run $50 million NFL commercials for 30 seconds.
Nothing wrong with that, it's their business model, but that put things in perspective in terms of what is more important.
Exposure and brand awareness so they could get on people's minds among all the hundreds of options in the market.
But what about results?
These companies rarely run clinical tests, once it's not required from the FDA, as an Over The Counter product. But mostly because there are no real results to show or prove.
Needless to say, for a family run-business as we are… UFlawless is the reason for our existence!
We look forward to seeing UFlawless soon!