UFlawless
Save Your Skin With X3 Age-Defy Retinol PM Serum
Want to save your skin? X3 Age-Defy Retinol PM Serum can help transform your skin. If you have even a little knowledge of skincare, then you've probably heard the word "retinol" thrown around a lot. People seem to praise retinol for its amazing ability to treat skin and turn back the clock, and there's good reason to think this. 
Retinol does amazing things for your skin. Retinol is essentially another name for vitamin A and began to rise in popularity when dermatologists started praising it for its great skincare treatments. X3 Age-Defy Retinol PM Serum was created with 0.5% pure retinol that will revive your youthful radiant glow. This amazing product helps revive skin from the deepest layer, leaving no fine lines behind.
Below, you'll see how X3 Age-Defy Retinol PM Serum can help save your skin. 
What Retinol Does For You?
Retinol is a type of retinoid, which is a fat-soluble organic compound and vitamin A derivative. Retinol exfoliates the skin, increases skin cell turnover, and stimulates collagen synthesis. People will often call retinol the "holy grail" of skincare products thanks to its ability to revive skin and keep it clear. The small molecules of retinol are able to penetrate the deepest layer of skin which neutralizes free radicals and increases surface skin cell turnover.
Benefits of Using X3 Age-Defy Retinol PM Serum
Retinol has a special ability to alter the behavior of aged cells, making them appear more youthful. Adding this product to your skincare routine can help reduce uneven skin texture and make skin look more toned. Applying this product includes the following benefits:
Retinol binds to the retinoid receptors of the skin which enhances cell turnover and stimulates the production of elastin and collagen (skin proteins).
Thicken deeper skin layers which enhance the skin's ability to retain moisture. This can reduce fine lines and wrinkles. 
Thins out the topmost cornfield epithelial skin improving the tone and texture of the skin. 
Helps control acne by normalizing the functions of oil glands.
Soften fine lines and lighten hyperpigmentation.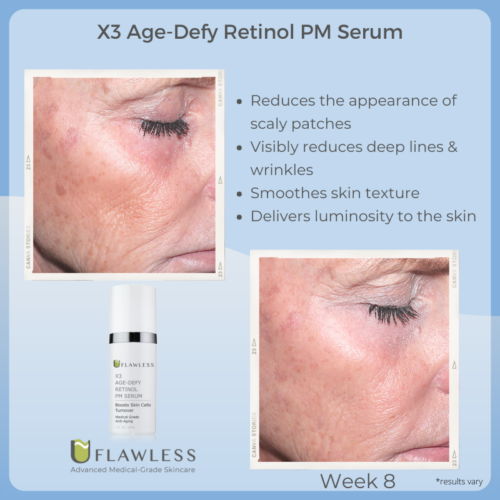 PM Serum at Night
When we go to sleep at night, our bodies begin a replenishing process. Our entire body begins to balance itself as it develops new cells. Applying our X3 Age-Defy Retinol PM Serum during this process at night can show significantly better results compared to daytime. Retinol is also more sensitive to light which can slightly reduce results. Using vitamin C during the day and retinol at night is one of the best combinations we can take advantage of for our skin. Vitamin C is crucial for boosting collagen production and boosting our immune system health. 
Apply Retinol The Right Way
If you're looking to make your skin shine again, there's no better way than with X3 Age-Defy Retinol PM Serum. This product will revive your skin and not leave any flaking behind. We guarantee you'll be satisfied with the results! Try it Risk-Free! That means you can use the entire bottle for 30 days and if you're not satisfied with the results, your money back is 100% guaranteed!