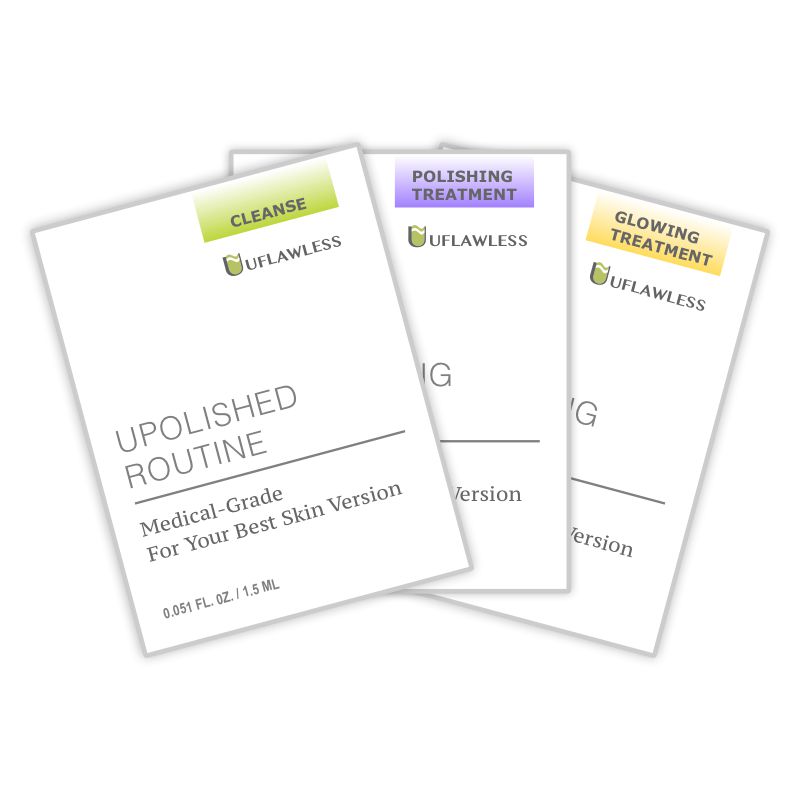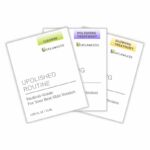 UPolished Routine | Skincare Samples |
Free!
FREE Samples! Just help us with the shipping & handling!
It's OK if you're still not sure to order the full set. We understand we are a new skincare brand for you… and hundreds of options…
But we're NOT ANY skincare brand.
Let us show you, we are the brand you can trust
That's why we would like to invite you to get samples of the 3 Steps
Cleansing – X3 Chamomile Balancing Cleanser
Polishing Treatment – X6 UPolished Exfoliating Cream
Glowing Replenishing Treatment – X9 Brightening Treatment Serum
They are FREE!
We give the products for free and you help us with the shipping & handling only ($5,95).
You're going to feel your skin so amazing the first time you use it, that we're already waiting for you to come back for more!
And feeling more confident as you can really picture yourself with a youthful lifted appearance in weeks from today!
Description
Additional information
Reviews (0)
Ingredients
Description
It's our prize-winning all-natural pH-balanced cleanser for all skin types. It's the perfect jump-start to your skincare routine. It's a Medical-Grade Formula with the purest botanical extracts that will make your skin firm and smooth, washing away all the impurities, decongesting the pores, and preparing your skin to receive vital nutrients for the products to follow.
Made with Chamomile and Ginger essential oils. Peptides and Brown algae extract to hydrate and soothe. Hydrolyzed Algin, a botanical component, is derived from brown seaweed. The particles of Hydrolyzed Algin are 30 times smaller than our pores, which cleans even the most encrusted dust. It helps to fight pollution, cleaning away urban dust. Supports the reduction of fine lines and surface dryness.
Benefits:
Perfect for cleansing Pre and Post-procedure use
Softens the appearance of fine lines and helps smooth skin texture
Ideal for sensitive and irritated skin
Directions:
With a small amount onto damp face and neck, twice a day. For good results leave for 10 seconds, then rinse thoroughly with tepid water.
Could be used as a Face Mask, as it is made with natural ingredients, and the cleansing effect is enhanced without drying out the skin. Leave for 3 to 5 minutes then rinse.
For even better results follow with a serum treatment and moisturizer
Your skin will never look the same after the X6 UPolished Exfoliating Cream.
A Double-Action exfoliating cream that removes dead skin cells, at the same time immediately restores skin's natural vitality, delivering an amazing polished look!
Made with Pomegranate Enzymes, combined with Vitamin-B Complex (Niacinamide + Panthenol) and 100% biodegradable smooth polishing powder, it ensures less irritation and smoother skin texture.
Pomegranate contains antioxidants – anthocyanins, ellagic acid, and tannins – and Vitamin-C which are excellent components to detoxify the skin while creating a protective shield against free radical damage. In other words, everything to make your skin look fresh and beautiful!
In clinical studies, it was proved that Anthocyanins, present in pomegranate enzymes, improved the resilience of the skin against UV sun damage.
It's not only the detoxifying and protection properties that pomegranate enzymes deliver to the skin. It's the capability to promote an acceleration in skin regeneration at the same time that boosts collagen, making it an impressive natural anti-aging active ingredient.
Niacinamide and Panthenol added to the Medical-Grade formula of the X6 UPolished Exfoliating Cream, help the reduction of large pores while creating a fantastic skin's natural barrier.
Formulated with Natural derived Lipids and powerful antioxidants to lessen age spot recurrence, while plumping the skin, and delivering an instant glow.
Formulated with Medical-Grade strength with cutting-edge actives and ingredients to treat and protect skin against free radicals that causes age spots, freckles, and pigments
Vitamin E + F helps to immediately enhance the luminosity of the skin, diminishing wrinkle appearance and revealing a youthful ageless brightening skin.
Vitamin E works as well as one of the antioxidants present in medical-grade strength acting to scavenge free radicals and inhibit the formation of melanin.
Scientific studies prove that the Lipids used on the X9 Brightening Treatment Serum influence skin pigmentation by stimulating epidermal turnover and increasing the desquamation of melatonin pigment from the epidermis.
Curious information from a study performed in 2015 shows clear evidence that people living close to interstate highways are linked to having 20% more age spots than age-matched individuals, compared to other groups of people, farther from Interstates.
That's the reason this product is a must for people living in big cities, as it is loaded with the best antioxidants, specifically targeted to fight free radicals derived from pollution (Carbon + Nitrogen + Oxygen)
Directions:
After rinsing off the X6 UPolished Exfoliating Cream, apply the X9 Brightening Treatment Serum for glowing smoother skin.
Additional information
| | |
| --- | --- |
| Weight | 0.04 lbs |
| Dimensions | 9.5 × 4 × 0.25 in |
Ingredients of each product
X9 Brightening Treatment Serum
Cyclopentasiloxane, Ethylhexyl Cocoate, Dimethiconol, Glyceryl Linoleate (Vitamin F), Glyceryl Linolenate, Tocopheryl Acetate (Vitamin E), Lecithin, Glycolipids, Dimethylmethoxy Chromanol, Phenoxyethanol.
X6 UPolished Exfoliating Cream
Water (Aqua), Polyhydroxybutyrate, Carthamus Tinctorius (Safflower) Seed Oil, Glycerin, Cetyl Alcohol, Stearic Acid, Sodium Lauroyl Sarcosinate, Glyceryl Stearate SE, Lactobacillus/Punica Granatum Fruit Ferment Extract, Sucrose Cocoate, Niacinamide, Panthenol, Cocos Nucifera (Coconut) Oil, Carrageenan, Carbomer, Sorbitan Stearate, Sodium Hydroxide, Phenoxyethanol, Ethylhexylglycerin.
X3 Chamomile Balancing Cleanser
Water (Aqua), Sodium Cocoyl Wheat Amino Acids, Cocamidopropyl Betaine, Glycerin, Hydroxypropyl Guar, Ahnfeltiopsis Concinna (Red Algae) Extract, Hydrolyzed Algin, Anthemis Nobilis (Chamomile) Flower Oil, Zingiber Officinale (Ginger) Oil, Phenoxyethanol.