UFlawless
Dry Skin & Acne: What To Do Now?
This is a common question people may ask, if it is possible to have acne with dry skin. And yes even though Acne happens with build up oil on the skin, it's not hard to see acne on dry skin, as well.
Acne is a broad term used to describe anything from blackheads and whiteheads to nasty cystic pimples around your chin.
Acne is commonly caused by oily skin however there are still people that can have bad breakouts even having dry skin.
Dry skin isn't the direct cause of acne but it can make things considerably worse.
What's the main reason for Dry Skin Acne to Happen?
The reason why is that on dry skin, the skin get flaky more often, and with that dead skin cells, build up on the surface of the skin, clogging pores, which leads to inflammation.
Most people will experience the issue of dry skin and acne during the winter months but it can also be a hassle all year for some people.
Dealing with both dry skin and acne can become quite a challenge but having a better understanding of the issue can help you make the right treatment option.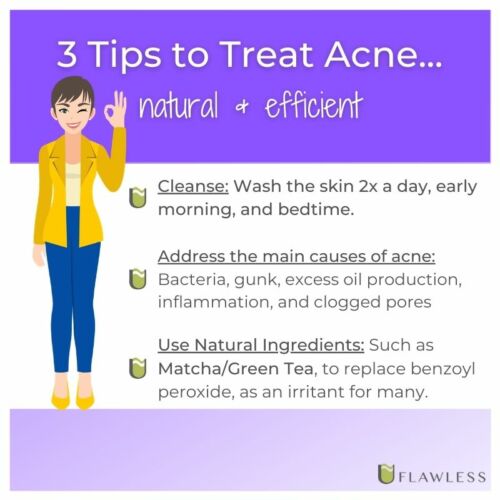 What's the best natural alternative for Benzoyl Peroxide To Treat Acne?
There are no questions about reducing pimples using Benzoyl Peroxide. However, it's not tolerable for many, at the same time it is very aggressive to the skin.
The main side effects are dry, flaky skin, which may lead to itchiness and discomfort, that can last weeks.
That's why UFlawless developed a product, with natural ingredients to treat acne and hormonal acne.
We're talking about Matcha. A sophisticated form of Green Tea Extract, loaded with potent antioxidants, that helps to balance oil production, at the same time that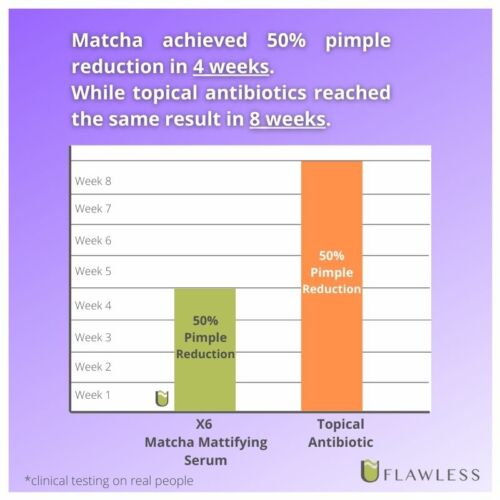 Can Dry Skin Cause Acne?
Acne is caused partly by hair follicles and excess buildup of skin cells and dirt clogging your pores.
This is typical with people that have oily skin or those who have a buildup of dead skin cells.
This can still happen to those who have dry skin.
Dry skin can make your pores more prone to inflammation and collect the pore-clogging debris you want to avoid.
That's not the only thing, dry skin can also cause your skin to produce more oil to compensate for the lack of moisture.
Excess oil is what causes acne outbreaks to occur.
Prevent Breakouts With Dry Skin
If you have dry skin, you always want to moisturize each and every day. UFlawless has the medical-grade solutions you need.
We recommend our X9 Advanced Exfoliating Cleanser to help moisturize your skin and remove the excess build-up of dead skin and oils.
Not all moisturizers are created equally. What is great for the summer may not work well for the winter.
If you are dealing with dry skin, acne, and other skin blemishes, try switching from a heavier moisturizer to a lightweight formula such as our medical-grade X3 Chamomile Balancing Cleanser.
Hot summer days make us sweat, and skin glands, produce more oil, and when the pores are clogged inflammation may occur.
Using a skincare product that is too thick may clog more pores and cause more blemishes to appear.
Use a Proper Skincare Routine For Acne
In order to keep dry skin and acne at bay, you need an everyday skincare routine that promotes healthy and nourished skin.
UFlawless has a medical-grade routine that works for teens and adults alike who struggle with dry skin and acne.
The X6 Medical-Grade Acne Routine is a carefully formulated solution to help cure dry skin and remove annoying acne that is commonly found in both adults and teenagers.
The Best Natural Solution For Hormonal Acne
Is the X6 Medical-Grade Acne Routine.
A 3-Step Routine made with natural ingredients to exfoliate the skin, ungluing dead skin cells, freeing up pores to breathe, while nourishing youthful skin cells with potent antioxidants derived from Matcha (sophisticated form of Green Tea Extract).
As all of that was not enough, we are giving you a free product to quickly remove those undesirable zits on the skin, with a product called X6 On The Zit.
The Ideal Routine for Dry Skin Acne
In three steps, you can have luminous clear, and moisturized skin. Start with the X9 Advanced Exfoliating Cleanser which helps cleanse deep pores and remove dead skin cells.
Next, exfoliate with the X3 Refining Glycolic Pads that help prevent breakouts by clearing build-up around acne lesions.
Finally, treat your skin with the X6 Matcha Mattifying Serum that helps reduce oil production, one of the main reasons for acne buildup.
The extra bonuns of this product is that you can also use it as a makeup primer as it create a matte finish on skin.
Last but not least, all covered with our 100% Risk-Free Guarantee!
Use the entire bottles for 30 days, and if you're not satisfied with the results, your money back is 100% guaranteed!
Featured Products to Treat Dry Skin Acne and Hormonal Acne: